Closet Factory Virginia Beach
Closet Organizers – Custom Whole Home Organization
How organized is your life? Our clients believe there is a better way! If they had more time, more control, and a little more organizational piece of mind – who knows – they might accomplish anything. We exist for people who value time as you do. Building real custom, organization solutions. We start from scratch, and don't build, or install a thing until we see how you live and what you need.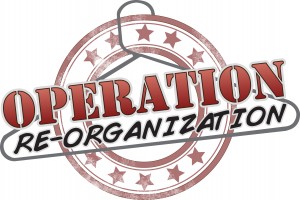 Weekly on Cox Channel 11 Closet Factory Virginia Beach team helps local homeowners become more organized. Get behind the scenes access to see exactly how this team of space saving custom organizers transforms people's lives through organization. It is truly an art and a one of a kind Closet Factory custom storage solution.

After many Closet Factory installations, repeat clients Robin and Ken Bricker find their garage in need of a makeover…but what to do with all those personalized license plates and golf gear? And as season one draws to a close, we look back over a fine year in the ever evolving world of Closet Factory!

To help create a zen atmosphere, Kate Burns of the Hot Yoga Studio once again, calls upon the Ancient Masters of Organization…er, that would be Closet Factory, of course! Namaste!

What's good for the Goose is good for the Gander! When Crystal Gregoire-Pryka decided to convert a spare bedroom into a Queen's Dressing Room, her King agreed, but only if he gets one too!

Ken and Ann Arnesen can't take it anymore! Piles of laundry everywhere! During a bathroom renovation they discover that the next door laundry and mud room do not do justice to their beautiful home! One Facebook message later and Closet Factory to the rescue! Watch how it all unfolds…

When Closet Factory client Sarah Dale decided to downsize, she didn't want to lose her existing Closet Factory office. The solution: take the office with her But they soon discover matching existing materials to the new design may not be as easy as they thought.Watch this week as the talented folks at Closet Factory mix the old and the new to create the UPSIZED OFFICE!

When Dorothy Bangert decided it was time to move from a 6-bedroom home to a studio apartment, the challenge was set!Not wanting her bed in the living room was the biggest challenge so Closet Factory designed a custom Murphy Bed/Bookcase making the shift from comfortable living area to cozy bedroom, easy peasy! Watch as Closet Factory creates a warm, inviting, efficient space for Dorothy to call her new home!

Becoming fast and close friends after serving in the military together, Agostinho Silva and Tim Tobin's next steps? Open a business together Their commercial space, POSTAL WORLD, is in need of an office unit, a shipping and receiving area, and cabinets! But who can address their needs? Special Delivery from Closet Factory!

U.S. Navy Pilot, Erik Gustafson & wife Christine, are no strangers to moving every 3 years, but on this Hampton Roads tour they decided to make their temporary home their dream home! To accommodate their expanding family they needed to maximize space. Who flew in? Closet Factory's own Maverick and Iceman, Nick and Mike, to create a Murphy Bed Wall!

Holy disorganization, Batman! What does a self-proclaimed geek and superhero/action figure collector do when the house is overrun? Call the professionals at Closet Factory, of course!
This week, a KITCHEN REMODEL at the home of Mary Kathryn "Woo Woo" from 94.9 Point Radio!
Anyone who has done one, knows that a kitchen remodel can be, shall we say, "challenging"? Watch as Closet Factory Designer, Joyce and Installers, Nik and Mike cook with fire to serve up a BEAUTIFUL Closet Factory first!
In this heartwarming episode of Operation ReOrganization, Juan builds a stunning entertainment center for a repeat client, and Nik and Jonathan build a unit for a homeless shelter, discovering how it feels to give back to the community.
It's an episode of firsts this week on Operation ReOrganization. Jonathan installs cabinets in a garage for the Edwards family, and Juan and Mike tackle a double Murphy bed solution for the Holtz's. Also, Jacinta shares an embarrassing anecdote in this week's Closet Factory Confidential. All of that and more on this week's Operation ReOrganization!
Juan constructs a walk-in closet with a very special laundry shoot included, while Mike and Jonathan tackle a pantry and mud room for the Hughes family. And someone makes a very special cameo…all this and more on this week's Operation ReOrganization!
Nik pulls double duty this week as he installs two reach-in children's closets for the Alex family, as well as working with Juan to install an entire bedroom setup for the Fohl family. All of this and more on this week's Operation ReOrganization!
Juan and Mike install a closet for a former radio and television personality, and Jonathan encounters a first when he installs a closet dedicated entirely to shoes! All of this and more this week on Operation ReOrganization!
The Cable house gets a brand new closet complete with a unique "flip-flop" basket, and the Host house gets one of the biggest installs yet as Jonathan and Nik transform an entire room into a luxurious master closet…all right here on Operation ReOrganization!
The Williams-Kimmons' see their vision come to life as Jonathan, Juan, and Mike transform their spare room into a closet/guest room hybrid you have to see to believe! Also, what happens when Tamra books a consultation with a contractor? Find out on this all-new episode of Operation ReOrganization!
After years of resisting, the Williams' finally let Jeff and Tami tackle their spare room, Tamra redesigns one of the smallest closets ever, and Jonathan works hard to correct the challenges from last week…all in this exciting new episode of Operation ReOrganization!
After a year of living with a new home but old closet habits, the Bonners call on Closet Factory design experts Jacinta and Nick to help them get organized. Also, Jonathan breaks his Closet Factory faux pas to Tamra before their long-time repeat client Jeanine returns.
An organized closet will improve your morning, but an organized home will improve your life. Better living through organization is the mission at Closet Factory Virginia Beach, and every single member of the team believes this to be true. These are custom organizers on a mission to transform people's lives through smarter living better organized custom closets and custom spaces throughout the home.
Hear and see video testimonials from our clients.
Contact us anytime for a Free Design Consultation.