Closet Factory Virginia Beach 
Closet Organizers – Custom Whole Home Organization
How organized is your life? Our clients believe there is a better way! If they had more time, more control, and a little more organizational piece of mind – who knows – they might accomplish anything. We exist for people who value time as you do. Building real custom, organization solutions. We start from scratch, and don't build, or install a thing until we see how you live and what you need.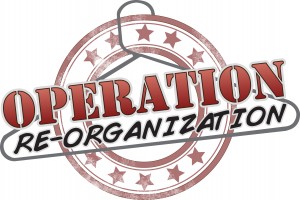 Weekly on Cox Channel 11 join the Closet Factory Virginia Beach team as they help local home owners become more organized. Get behind the build access to see exactly how this team of space saving custom organizers transforms peoples lives through organization. It is truly an art and a one of a kind Closet Factory custom storage solution.
Juan and Mike install a closet for a former radio and television personality, and Jonathan encounters a first when he installs a closet dedicated entirely to shoes! All of this and more this week on Operation ReOrganization!
The Cable house gets a brand new closet complete with a unique "flip-flop" basket, and the Host house gets one of the biggest installs yet as Jonathan and Nik transform an entire room into a luxurious master closet…all right here on Operation ReOrganization!
The Williams-Kimmons' see their vision come to life as Jonathan, Juan, and Mike transform their spare room into a closet/guest room hybrid you have to see to believe! Also, what happens when Tamra books a consultation with a contractor? Find out on this all-new episode of Operation ReOrganization!
After years of resisting, the Williams' finally let Jeff and Tami tackle their spare room, Tamra redesigns one of the smallest closets ever, and Jonathan works hard to correct the challenges from last week…all in this exciting new episode of Operation ReOrganization!
After a year of living with a new home but old closet habits, the Bonners call on Closet Factory design experts Jacinta and Nick to help them get organized. Also, Jonathan breaks his Closet Factory faux pas to Tamra before their long-time repeat client Jeanine returns.
An organized closet will improve your morning, but an organized home will improve your life. Better living through organization is the mission at Closet Factory Virginia Beach, and every single member of the team believes this to be true. These are custom organizers on a mission to transform people's lives through smarter living better organized custom closets and custom spaces throughout the home.
Hear and see video testimonials from our clients.
Read more on our blog and feel free to contact us with the form over on the right for a Free Design Consultation.